A Lavish Show Of Handwriting
---
The Webson Gill Captain Edition rewards you with a dreamy handwriting journey. Much of that revolves around the nib, which is a 0.5mm ultra fine German construction nib. The fine format that delivers a precise ink-to-paper experience.
---
We know a proper writing instrument is an extension of yourself. That is why your Webson Gill changes with you. Our specially designed brass nib and section beautifully age as you use it. Allowing you to leave your custom imprint on your Webson Gill.
---
Each and every Webson Gill is handcrafted with quality components and made specifically as a unit. That means your cap is specifically made to fit your barrel.
Every Webson Gill barrel is handcrafted and made from 100% recycled high quality wood.
---
Webson Gill caps are a piece of art in themselves. The are precisely made to perfectly fit with only your section giving each writing instrument its own unique signature. It is made from brass so it ages beautifully as you use it.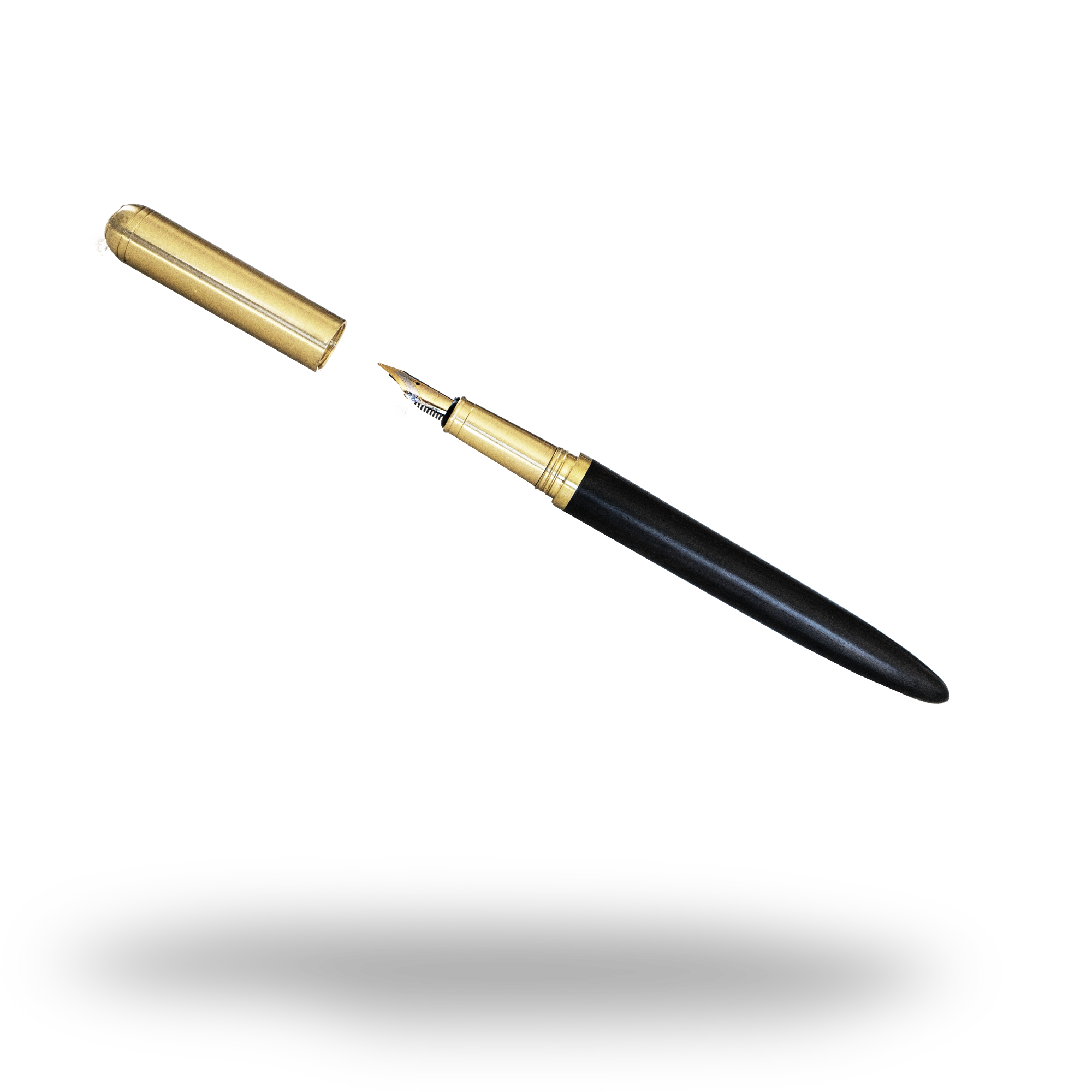 Our fine tipped gold layered nib is surely to impress. Now, we know the nib size and stiffness is highly personal. We concocted the perfect elements to deliver the ultimate instrument for daily use.
---
Although we crafted our components to deliver effortlessly precise inkflow with any ink, we have specially formulated ink with Webson Gill components for the ultimate writing experience.
(This ink is exclusively for Webson Gill customers... we will show you once you join our family)
What our some of our customers have to say
I love the solid feel of the chunky barrel, and found it well weighted for writing; smooth, with just the right level of feedback.
Samuel Larson
2 APR 2020, 12:21
It comes with a cartridge/converter system, which gives you the option to try other inks. But I must say, I am very pleased with the Webson Gill Ink cartridges. I am happy to report a smooth writing experience with all the ink I tried, but the Webson Gill Ink is by far superior.
Rebecca Ingnas
15 SEP 2019, 14:42
The presentation and the service of this company is out of this world! I have never ordered anything EVER and had this good of an experiencee from start to finish. And to top it off the pen is killer too. Thanks Webson Gill!
Thomas Francis
15 SEP 2019, 14:42
---
Hybrid German & Japanese inspired nib to bring the best of both worlds. Designed with the precise detail of the generational Japanese pensmiths and the rugged durability german engineering. The Webson-Gill Captain Edition delivers the presence of authority in a most subtle way.
---
---
We believe and stand by our products with every inch of ourselves. That is why we offer all of our customers with a 100 year guarantee on their Webson Gill.
No need to worry about security. We only use large trusted brands. We take security very important. We think of our customers as family, and that is what family does.
Industry Leading Customer Service
Have questions? Just reach out to us at any time and someone from our team will be happy to go above and beyond for you.
Is the 100 Year Guarantee Real?
Yes it absolutely is! 100% no risk, if you don't like the pen you can get a full refund no questions asked. If it ever breaks within 100 years of buying it you get refund simple as that.
Does this use ink cartridges or do you fill it from an ink bottle?
All of our Webson Gill fountain pens can use ink from a bottle (using a converter) as well as cartridges. If you need a cartridge we offer our own Webson Gill cartridges designed for the best writing experience.
Can the nib be swapped out, or does that decision need to be made before purchase?
Yes the nib can be swapped out with other nibs, if you need help changing your nib just contact our customer support team at support@websongill.com.
Why is the ink not coming out when I put the ink inside and followed instructions?
First time users sometimes underestimate the pressure it takes to puncture the cartridge. There is a definite "click" when cartridge is inserted. IF this is the first time a fountain is used with a cartridge it can take some time for the ink to flow to the nib. Set the pen upside down with the cap on and go make a cup of tea. The ink will flow soon after :)
How do you install the cartridge?
In order to install the ink cartridge, please, unscrew the barrel, put the cartridge into the front end, push it gently until it clicks, and screw the pen back together.
How long does shipping take?
Shipping usually takes 2 - 7 days. We ship within America using USPS.
How much does shipping cost?
Shipping is Free to orders within continental united states.
Can I get a refund if I don't like it?
Yes absolutely, if you don't love our Webson Gill fountain pens you can get a full refund no hard feelings!